NEW! NIEUW! NOUVEAU!
'Diepe Tijd' (Deep Time)
Woodblock print, printed from one linden blocks in three colour layers. Edition of 10
Woodcuts
Houtsnedes | Gravures sur Bois
Discover the beautiful technique of woodblock printing in the video below, or have a look at the wood- & linocuts in my webshop.
Les Reliefs is a printmaking project by Dutch artist Maurice de Rooij. Through this practice, he connects with the hilly and mountainous regions of the world, a landscape which he admires a lot. All the prints are designed, carved and pressed by hand with an etching press in his studio in Utrecht, Netherlands.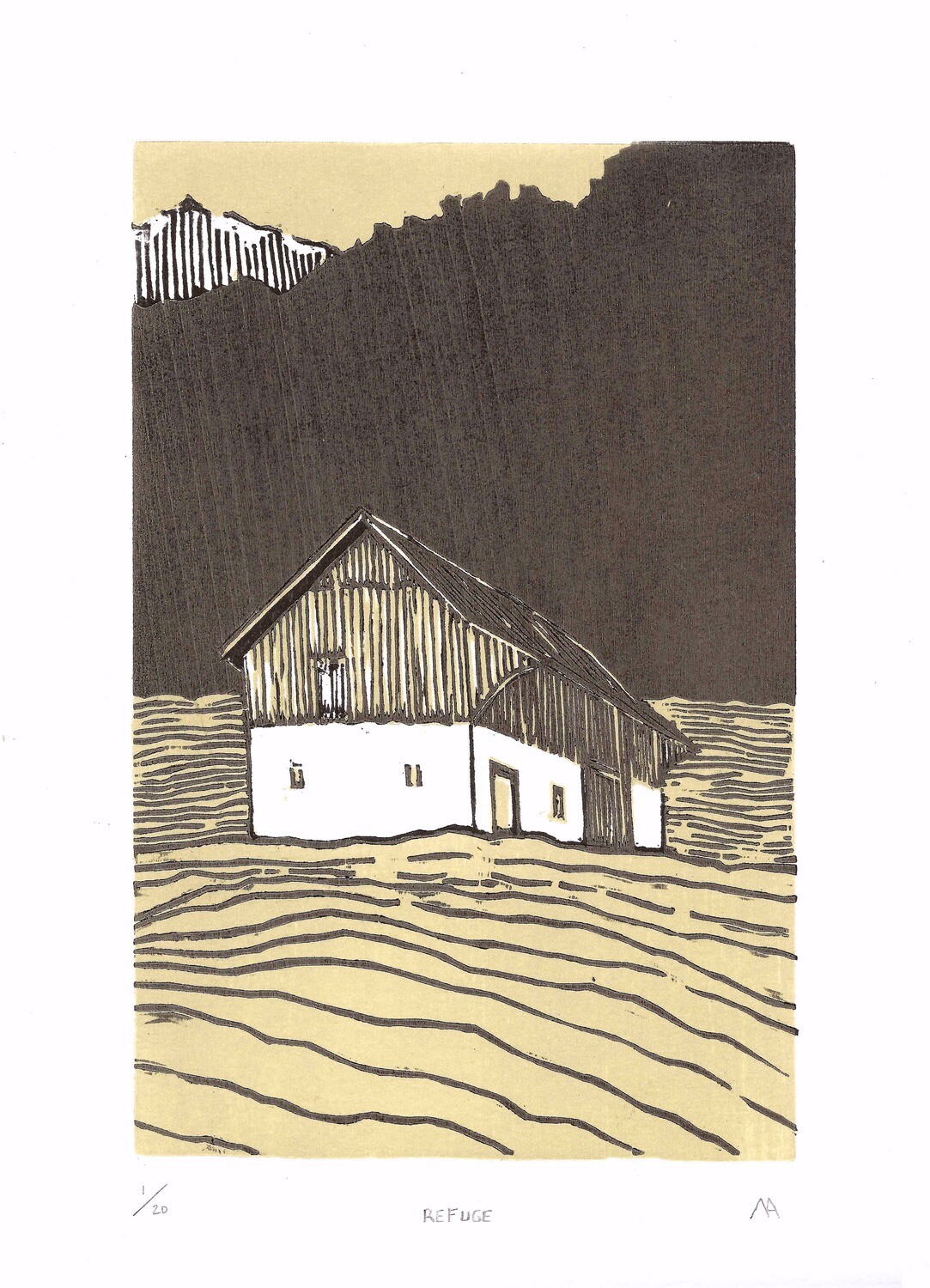 Want to be updated about new projects and prints? Do you want more insight and stories? Sign up for my newsletter here. (Available in 3 languages 🇳🇱🇬🇧🇫🇷)
🇬🇧 Woodblock printing is a technique where an image is carved out by hand out of one or several blocks of wood, after which a piece of printing paper is pressed against the block. This technique allows for detailed image printing in various colour ways. The grain of the wood is partly transferred to the paper, which gives the woodblock print its characteristic look.
🇫🇷 L'impression gravure sur bois est une technique où une image est découpée à la main dans un ou plusieurs blocs de bois, après quoi un morceau de papier est pressé contre le bloc. Cette technique permet d'imprimer des images détaillées dans différentes couleurs. La texture du bois est en partie transférée sur le papier, ce qui donne au gravure sur bois son aspect caractéristique.
🇳🇱 De houtsnede is een grafische hoogdruk techniek waarbij met de hand een afbeelding wordt uitgesneden/gegutst uit één of meerdere blokken (betrekkelijk zacht) hout, waarna een stuk papier tegen dit paneel wordt gedrukt. De techniek maakt het mogelijk om gedetailleerde afbeeldingen in verschillende kleurgangen af te drukken. De textuur van het hout is deels zichtbaar op het gedrukte resultaat, wat de houtsnede zijn karakteristieke look geeft.